February with Sinfonia Varsovia
01.02.2019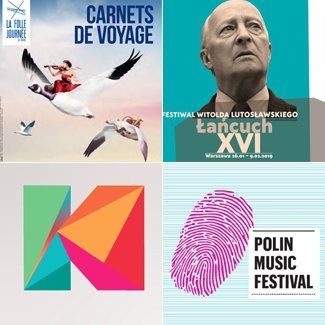 A concert under the direction of maestro Marek Janowski at the Witold Lutosławski Chain XVI Festival, concerts at the French edition of La Folle Journée and participation in the POLIN Music Festival are just some of Sinfonia Varsovia's plans for February. The Orchestra's musicians will also appear in a concert in the Sinfonia Varsovia Chamber Music series. We also have Smykofonia concerts for our youngest listeners.
The theme of the 25th edition of the La Folle Journée Festival is "Carnets de voyage", or Travel Diaries. Sinfonia Varsovia's musicians will perform no fewer than 11 times during the Festival, accompanying such outstanding soloists as Boris Berezovsky, Nelson Goerner and Raphaël Sévère. This year, the programmes of the concerts will consist of music written by composers for whom travelling was an inseparable part of their lives and a valuable source of inspiration. Apart from works by Mozart and Mendelssohn, audiences in France will also hear Sinfonia Varsovia perform works by Chopin and Moniuszko.
Considered to be one of the finest conductors of the past one half century, Marek Janowski will conduct Sinfonia Varsovia in a concert during the Witold Lutosławski Chain XVI Festival. On 9 February in the Concert Studio of Polish Radio we will have an opportunity to hear Ludwig van Beethoven's Symphony No. 7 in A major Op.92, coupled with the Concerto for Orchestra, composed by the patron of the Festival. Even though Marek Janowski was born in Warsaw on the eve of World War II, he spent all of his life in Germany. He worked with, among others, the opera in Hamburg and Dortmund, and with the Dresden Philharmonic. In 2002 he took over the position of artistic director of the Radio Symphony Orchestra in Berlin. Tickets are available at polskieradio.bilety24.pl.
The second concert in the Sinfonia Varsovia Chamber Music series will take place in the Orchestra's home three days before this date, on 6 February at 7:00 p.m. This year, the theme of the cycle is "From Duet to Octet", so the second ensemble to appear in terms of size is the trio, made up of Sinfonia Varsovia musicians Celina Kotz (violin) and Jakub Waszczeniuk (trumpet) with a guest appearance by pianist Piotr Spoz. The programme of the concert features music of both Americas, including works by Eric Ewazen, James Stephenson and Astor Piazzolla's famous Oblivion.
You are also invited to attend an identical concert on 11 February at 7:00 p.m. at the Służew Centre of Culture.
Admission to the concert at 272 Grochowska Street is free. Free entrance tickets for the concert in the Służew Centre of Culture are available at www.biletyna.pl.
Sinfonia Varsovia will also perform in the opening concert of the POLIN Music Festival: History Between Sounds (15 February 7:00 p.m.). Conducted by Marzena Diakun, the Orchestra will perform "Akeda" by Noam Sheriff, one of Israel's foremost contemporary composers and Mieczysław Weinberg's Rhapsody on Moldavian Themes Op. 47 No. 3 (version for violin and orchestra). Works by composers of the youngest generation will be performed after the intermission. Sturdivant Adams' "Polin" is a three-movement musical illustration of the history of Jews in Poland. The work was inspired by the composer's visit in the Warsaw museum and so the first performance of the work in the venue acquires special meaning. The programme of the concert also includes two works connected with Musical Postcards programme, in which composers send short musical postcards, impressions on their cultures. The first work is "Trip" by Nawras Al Taky, in which the 22 year-old Syrian musicians talks about losing his homeland. The reply to that work is "Dom jest gdzie indziej" [Home is Elsewhere] by Mateusz Śmigasiewicz – a composition that discusses a constant journey. The soloists will be violinists Linus Roth and Michael Guttman and cellist Jing Zhao. The concert will be conducted by Marzena Diakun. Tickets are available at www.bilety.polin.pl.
To our youngest listeners and their parents we recommend family fun at Smykofonia [Toddler Philharmonic] Valentine's Day concerts. The theme of these concerts on 16 and 17 February is "La ci darem la mano", from W. A. Mozart's famous opera Don Giovanni. We will hear that duet and many other love songs performed by Karolina Makuła (soprano) and Adam Zaremba (baritone). Accompanying them will be Mirosław Kulczyński (oboe) and Artur Pilch (piano). Tickets are available at www.smykofonia.pl.