First Anniversary of Krzysztof Penderecki's Death
29.03.2021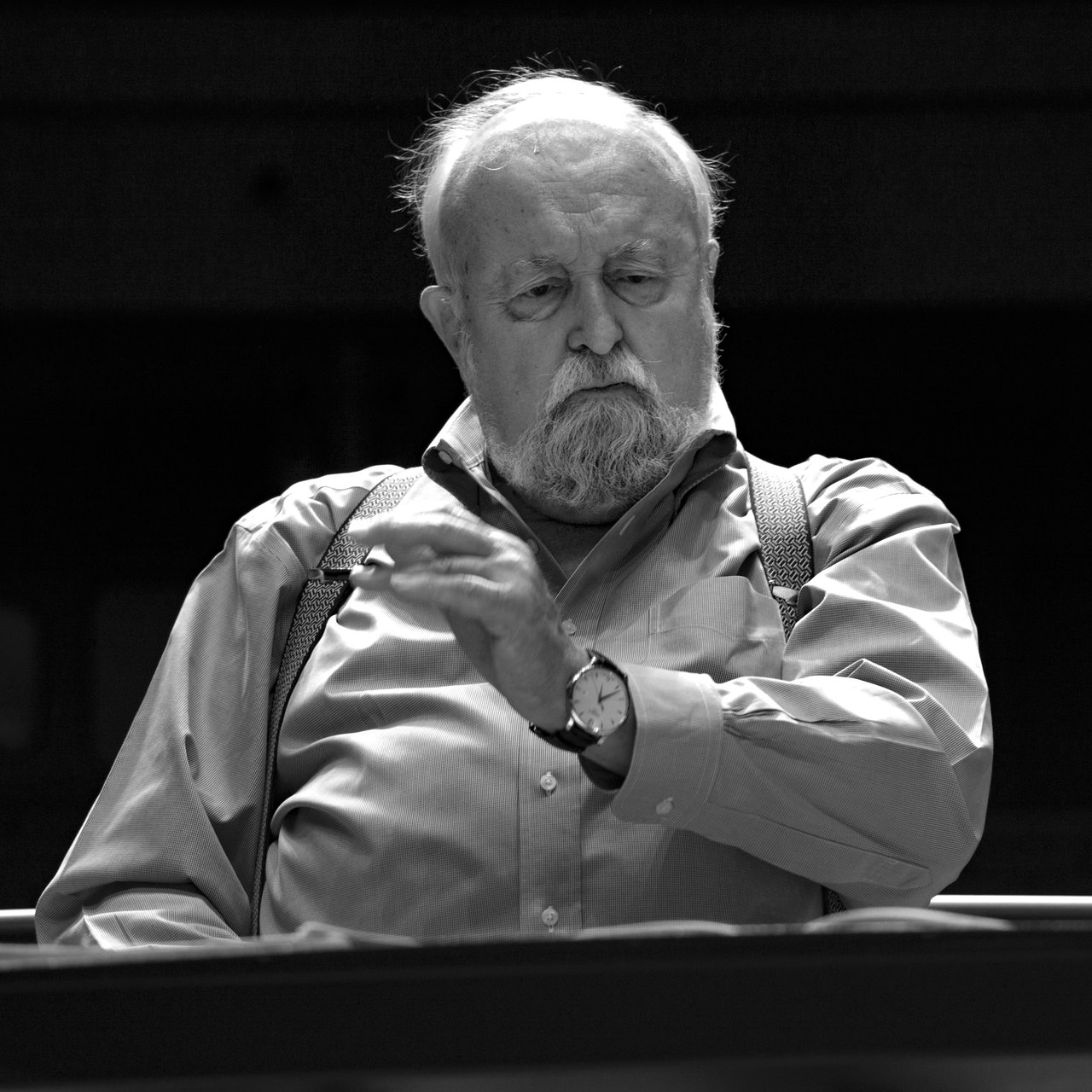 Today, 29 March, is the first anniversary of the passing of a great composer and conductor, our Friend and Mentor, the Artistic Director, Krzysztof Penderecki. It was a great honor and a beautiful adventure working with the Maestro. We have fond memories of our concerts, recording sessions, and overseas tours. We remember our first meetings and fascination with His music. Read the memories we've collected a year ago from the musicians of Sinfonia Varsovia in tribute to the Maestro's memory.
It was with great sorrow and a tear in my eye that I learned of Professor Penderecki's passing. Maestro was an outstanding, extraordinary, and certainly a memorable figure. He will be remembered not only for his music, which will survive for centuries, but also for his personality. Despite his position and achievements, he treated everyone equally and had a great connection with young people.
I had the pleasure to meet the Professor in 2003, when I was appointed the concertmaster of the Sinfonia Varsovia Orchestra, where he was the Artistic Director. That's when we started working together – not only with his orchestral pieces, but also with his solo and other works under the baton of the Maestro himself. His music made me a true admirer of his pieces. The Professor's output has influenced me in many ways: I wrote my doctoral thesis on his magnificent Violin Concerto No. 2 we've performed several times; as part of my post-doctoral studies, I made the premiere studio recording of his Chaconne in a version for violin and viola together with Katarzyna Budnik, under the Maestro's guidance. In 2017, together with Marcel Markowski I made the premiere studio recording of his Concerto doppio in a version for violin and cello – also under the guidance of the Maestro. I try to include his works in the concert repertoire whenever possible. For me, his music has always been exceptional, atmospheric, and simply unique.
He was a man of a tremendous charisma. He made us smile not only with his humor, but also with his very presence. He was always true to himself, open to other people, and easy to talk to. I will never forget sitting together at the airport in St. Petersburg in November 2015. When I asked him what his next trip would be, he replied that he was planning a trip somewhere to accept another honorary doctorate. Then he paused for a moment… and said, "I would rather sit at home and make a snowman".
That's what he was like – not only a great figure, but also a witty and down-to-earth person.
And this is how I will remember Him…
Jakub Haufa
I first heard Krzysztof Penderecki's music live at the festival marking the Master's 65th birthday at the Kraków Philharmonic when I started my studies at the Academy of Music in Kraków. During one of the concerts, I had the opportunity to hear a piece that lingered in my memory for a long time and became one of my favorite works of the 20th-century music. It was the Flute Concerto conducted by the composer himself with Jean-Claude Gérard (my future professor) as soloist.
By an amazing coincidence, my first experience in a professional orchestra was performing the piccolo part in Krzysztof Penderecki's Black Mask at the Kraków Opera when I was a student. I remember the feeling of doubt and confusion at the first rehearsal when I did not play probably even a single note in time and bars were flashing before my eyes like crazy. I remember the conductor raising his eyebrows with disapproval and my older colleagues, flutists giving me kind hints: "It's here, it's now, play…".
I will always remember the day when we were rehearsing Flute Concerto with Professor Penderecki for a performance with a great soloist, Łukasz Długosz. The rehearsal took place at the Railway Technical School on Szczęśliwicka Street, the soloist was to arrive the next day, and Maestro Penderecki decided to run through the orchestral part in order to "refresh" the memory of the piece we had not played for a long time. As a newbie principal flutist, without hesitation I offered to try and play the solo part, which I had performed a few months earlier and still had it "in my fingers". We managed to run through a larger part of the piece (the Maestro never liked long rehearsals), and during the break the Professor gave me a pat on the back and said, "Well, very good. We must perform it together sometime". Unfortunately, planned many years later, the concert in Lusławice never happened. Nevertheless, it was one of the greatest compliments I have ever received in my professional career.
Those last couple of days were very difficult for us, the musicians of Sinfonia Varsovia. We will all remember Professor Krzysztof Penderecki teasing Artur Paciorkiewicz and the other distinguished colleagues of the Orchestra with a benevolent smile: "You'll see when you're my age." He used to say that during our projects and anniversaries, while his appearance, humor, and energy seemed untouched by the passage of time. That is why the news of the Maestro's death, although the reports of his deteriorating health had been circulating for several months, came as a crushing blow to us. Our concerts, recordings, tours, and annual performances in the European Music Centre in Lusławice, the true pride of Maestro Penderecki, were always special and at the same time very natural… That is why it is so hard to come to terms with the fact that it's all over now. Dear Professor, you will be sorely missed…
Andrzej Krzyżanowski
Professor or Maestro (notDirector), as I used to address Krzysztof Penderecki, is one of the three key figures associated with our Orchestra – beside Jerzy Maksymiuk and Yehudi Menuhin – I admire the most.
And this is not only about his works. His brilliant talent is indisputable in this respect. I will remember Maestro as a wonderful person, direct and witty. He liked spending time with the musicians. During concert tours, he often emphasized that whenever it is possible, he prefers to travel together with the members of the orchestra. He took all the inconveniences in stride and never complained. One could see great life wisdom in him.
With the passing of the Professor, we closed a certain chapter in the artistic book of Sinfonia Varsovia. Every time we perform Krzysztof Penderecki's works, I will recall him standing behind the conductor's stand.
Grzegorz Kozłowski
When I think of Professor Krzysztof Penderecki, the first thing that comes to my mind is how unique each of our meetings was. Every rehearsal, every concert, and every moment were truly special and memorable. The opportunity to spend time with the Professor gave me a lot of joy and motivation to work even harder. During orchestral rehearsals, one could sense that each musician was fully focused and willing to do their best to meet the, often difficult, requirements of the Maestro.
One moment has particularly stuck in my mind. It was not so long ago, in January 2019, when the Sinfonia Varsovia String Quintet was recording its debut album. One day, Professor Krzysztof Penderecki just suddenly entered the Witold Lutosławski Concert Studio. We were all in absolute shock. Although we were planning to record the Professor's string quintet that day, no one expected that the Maestro would honor us with his presence. We were just about to finish recording the last, fifth movement of Dmitri Shostakovich's String Quartet No. 8. After the last note, the Professor shared with us his personal story about Shostakovich and told us that he was one of the first people to have heard this piece.
After a short break we were recording his Quintetto per archi. It was our second performance of this piece in the presence of the Professor. A few months earlier, Maestro was not entirely satisfied with our interpretation of the piece and shared his performance tips with us. Keep that meeting in mind, each of us tried to reach the heights of our skills. After several tens of minutes, Maestro said thoughtfully, "This is the way I've always wanted it to be performed". Hearing these words from Professor Krzysztof Penderecki was certainly a moment that I will not forget for the rest of my life.
Kamil Staniczek
The music of the late Maestro Krzysztof Penderecki is full of passion and emotion and allows performers to freely express themselves. My work with Professor Penderecki was very inspiring, as I always did my best when playing under his baton. I will remember him as a kind, modest person, who was very committed to what he did. The passing of Maestro Krzysztof Penderecki is not only a tremendous loss to the world of music, but also to us, musicians, who had the opportunity to work with him and play great works under his watchful eye…
Katarzyna Budnik
My memories of Professor Krzysztof Penderecki are very personal and had a huge impact on my artistic life. A few years ago, the Director of Sinfonia Varsovia, Janusz Marynowski, called me and asked if I wanted to play a concert marking the opening of the POLIN Museum with Maestro Penderecki as conductor. An ordinary student, for whom having passed the exam to the best Polish orchestra, Sinfonia Varsovia was already a huge success, was given another chance and a great privilege to perform under the baton of Krzysztof Penderecki. After this concert, my meetings with Professor Penderecki became more and more frequent and were always filled with mutual respect, commitment, and humor. I will remember Professor Penderecki as a person full of energy and good humor.
I remember when Jakub Haufa and I arranged a meeting with the Professor before a concert inaugurating the artistic season in Lusławice. We wanted to play Chaconne in a version for violin and cello and make sure that we could perform it as an encore. The professor, commenting on certain phrases, suddenly paused and said, "I'm sorry! I keep calling you by your first name. Well… why don't you call me Krzysztof then?". We all burst out laughing.
Another memorable moment was when the Sinfonia Varsovia String Quintet was recording its album last year in early January in Studio S1. The Professor unexpectedly appeared in the studio and spent several hours just listening to our interpretation. When the recording of his piece came to an end, he said, "This is how I would play it myself."
I had a great honor as a soloist to perform four concerts under his baton, record two albums with his works, and play countless concerts as a musician of Sinfonia Varsovia. This time was full of unique moments and experiences, which I will never forget and always cherish. I am grateful to Maestro Penderecki for all he did and the opportunity to share the stage with him. For me, he is a figure of the highest caliber and a person that will live forever in our hearts.
Marcel Markowski
Professor Krzysztof Penderecki had been present since the very beginning of my artistic path – from my first project as a freelance musician when I was still a student, through being a member of the double bass section and then its leader, to working as a chamber musician in the Sinfonia Varsovia String Quintet. Over time, I began to learn more and more about his music, discovering its meaning and beauty.
Maestro Krzysztof Penderecki was able to create great art and at the same time build relationships with the musicians of the orchestra. His remarks like: "you sound like a piece of furniture or "don't look for music where there is none", not only relieved the tension, but also brought us closer to performance perfection. We always worked together to create music.
After he accepted an invitation to participate in the recording of his piece last year, he spent many hours listening to our interpretation and giving us feedback. Even though our vision was different than his, he decided to follow it. Always enthusiastic, open, and dedicated to art.
His passing is an immense loss not only to Polish classical music, but also to each of us. We said goodbye to a great artist and a wonderful person.
Michał Sobuś
Ten years ago, I was a young and ambitious flutist, who just joined the orchestra. A concert with Krzysztof Penderecki's Symphony No. 8 conducted by the composer himself was coming up. I could sense a tinge of excitement and a slight tension in the orchestra and I already knew that this project was surrounded by the aura of a charismatic conductor, who strongly affects the mood, commitment, and musical expression of each musician.
The rehearsals with the Professor's assistant, Maciej Tworek, began. My first contact with the power, might, and beauty of sounds. As Mr. Tworek was well acquainted with the Maestro's scores, he made us attuned to subtle nuances and knew exactly which moments of the instrumental parts to bring out on top of the tutti.
Then came the day of our meeting with the Maestro. Smiling and cordial, he greeted us warmly, especially the older members of the orchestra. As usual, he gave us a feeling that he was looking forward to working with us and confidence that we would create a spectacular concert together.
I remember having a short alto flute solo at my first concert. My colleagues advised me to play confidently and loudly so that I wouldn't have to move to the first line of musicians for that moment. I had stage fright, which mobilized me to play with maximum energy and expression. This concert was a powerful and unforgettable experience. Then came other performances in beautiful concert halls in Poland, China, Russia and Germany. In the presence of the Professor, the musicians did their best to bring out the power of the written notes. The response of the audience was also very unique. Each concert with the Professor's music was an outstanding event, giving me a sublime mood, solemnity, mystery, a touch of beauty, strength, tenderness, sadness, and hope. I could hear the sounds echoing in my heart even a few days after the concert.
The memories of Maestro will stay with me for the rest of my life. I will remember him as a Great Composer, a Maestro supported by his amazing wife, Elżbieta Penderecka, a prominent figure, and a serious conductor, who could be surprisingly sincere, laid-back, and witty.
Anna Jasińska
After I joined Sinfonia Varsovia, I had the opportunity to work very closely with Krzysztof Penderecki while playing concerts, and there were quite a few of them in the 1990s. Krzysztof Penderecki was then at the pinnacle of his conducting career, although he often emphasized that he was not a conductor, but merely a "conducting composer". We, the musicians, have always believed that no one conducted his works like He did. Various conductors from all over the world rehearsed Mr. Penderecki's repertoire with us, but the difference always tipped the balance in Penderecki's favor in this matter. As a percussionist, I met with the Professor quite often to discuss the use of appropriate instruments, especially in the latest, newly written works. During my student years, I had the opportunity to play the Polish Requiem with the National Philharmonic Orchestra in the 1980s. I remember how Penderecki used to come up to our section, especially to Jerzy Woźniak (the then timpanist), asking us how to better use and combine the sounds of percussion instruments, and writing everything down in his notebook. That really impressed me.
I will never forget the meeting I arranged, upon Maestro Penderecki's request, with Bernard Kolberg at the Kolberg Percussion factory in Stuttgart, where we played a concert. One could say that I witnessed a historic moment as a new instrument, the tubaphone, was invented, which was then first used in the Seven Gates of Jerusalem. These memories will stay with me for the rest of my life. Of course, Professor Penderecki also showed his human face, for example when he said "Please don't change anything there, the composer is still alive and wants it that way" or addressed me when, due to the lack of space, I was standing with my back turned to him, "Stop screwing around with your backstroke!" (this became a running joke in the orchestra). He used to say to the drummers, "Stop beating that drum like it's a dead horse". The percussion was always the apple of the composer's eye and when he remarked, "Percussion!!! What is this new tam-tam over there that sounds so strange?", I answered, "Mr. Director, it has been the same for 15 years".
During one of the rehearsals with the composer, who sometimes came from Kraków specially for us, and who was very busy and often in a hurry, he once said carelessly that it was already late and he had a train to catch. Since then, whenever he asked us about the time during a rehearsal, we used to answer in chorus, "There's no more time, cause it's late", and then He always smiled and replied, "We're wrapping it up". He didn't need many rehearsals and always trusted us artistically. Even when we played The Seven Gates of Jerusalem after just one rehearsal. But the greatest compliment we received from Him was after one concert in Belgium, where we performed the Christmas Symphony, which we played many times all over the world. After the concert, Maestro Penderecki addressed the string section leaders, "You play this symphony better than anybody else".
My memories of the recent time spent with the composer are more personal. My son Wojtek, who is a composer, won the Krzysztof Penderecki International Composers' Competition "Arboretum". His composition won out of roughly 110 entries from all over the world – he received the first prize and the audience prize from the composer. In 2017, Director Adam Balas invited us together with the Chopin University Big Band to join Mrs. Elżbieta Penderecka's birthday celebration in Lutosławice. Together with Dorota Miśkiewicz, Slawek Uniatowski, and Marek Napiórkowski, we played a special light jazz concert. Mr. and Mrs. Penderecki were quite surprised to see me performing as a big band leader, since they were rather used to my role of a timpanist in Sinfonia Varsovia. After the concert, while going to a reception with the Professor and his wife, Penderecki said that jazz was the kind of music he was really into now and added, "And classical music is already passé". This is the image of the composer, director, and a person I will remember.
Piotr Kostrzewa