Recap of the 20th Sinfonia Varsovia to Its City Festival
16.09.2020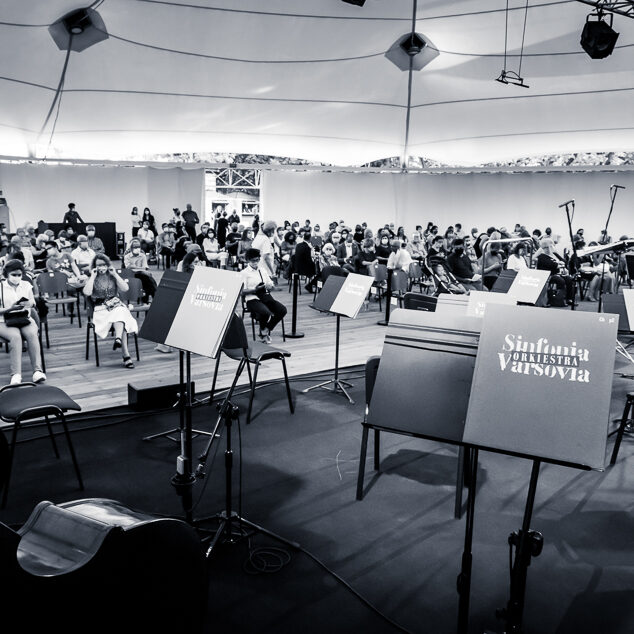 This year's edition of the Franciszek Wybrańczyk Sinfonia Varsovia to Its City Festival lasted over a month, from 2nd August to 3rd September, and attracted over 3,200 attendees, who attended orchestral, chamber, and family concerts, and multimedia contemporary music concerts taking place in the Concert Pavillion.
23 events of the 20th edition of the festival featured several dozen artists from Poland and abroad, including last year's winner of the International Tchaikovsky Competition, French pianist Alexandre Kantorow, and the leading European ensemble specializing in contemporary music performance, Ensemble Garage. Sinfonia Varsovia Orchestra, led by renowned conductors, including Alexander Vedernikov, Daniel Raiskin, Jerzy Maksymiuk, Bassem Akika and Michał Nesterowicz, performed classical masterpieces with works of the artists associated with Warsaw as the focal point of the Festival. The repertoire included works by prominent Polish composers such as the former artistic director of Sinfonia Varsovia, Krzysztof Penderecki, Witold Lutosławski and Andrzej Panufnik.
The Festival also showcased the Orchestra's chamber ensembles such as Sinfonia Varsovia Brass, Sinfonia Varsovia Wind Quintet and Sinfonia Varsovia String Quintet, showcasing new arrangements of classical and popular music pieces. The Festival also featured premiere performances. The audience had the opportunity to hear new compositions by Bassem Akki, Monika Szpyrka, Piotr Peszat, Rafał Ryterski, Paweł Romańczuk, and Wojciech Kostrzewa.
The anniversary edition of the Festival ended with the sound of the enlarged Orchestra, which performed Modest Musorgsky's "Pictures from the exhibition" (arranged by Maurice Ravel) for the finale. The events of the 20th Sinfonia Varsovia to Its City Festival followed a strict sanitary regime and safety precautions.
Many concerts were recorded and will soon be available to watch on the Sinfonia Varsovia YouTube channel.
For more information about the Festival please visit the Sinfonia Varsovia's website.