Sinfonia Varsovia at the 25th La Folle Journée Festival in France
25.01.2019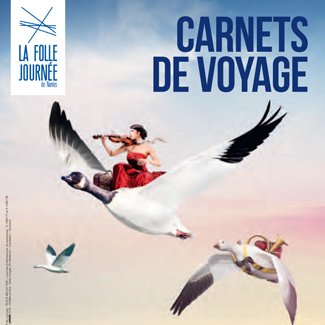 25 January – 3 February 2019, France
Another edition of La Folle Journée is underway! As in previous years, this extraordinary festival of classical music takes place in the French city of Nantes and in surrounding towns. This year's theme for all concerts in France, and then in Japan, Russia and Poland is "Carnets de voyage" – "Travel Diaries". A grand company of renowned artists from all over the world includes Sinfonia Varsovia, which will perform in France no less than 16 times.
It is in Nantes that the revolutionary La Folle Journée Festival was born 25 years ago, quickly becoming a worldwide sensation. Short concerts with accessible repertoire and low ticket prices have been bringing the world of classical music to large audiences for years. The event is so immensely popular in France that before the main festival begins in Nantes on 30 January, there will be concerts in many cities of the Pays de la Loire some days before this date. This year's theme is "Carnets de voyages" – "Travel Diaries". "This year, we are discovering the greatest travellers among composers. We will show that quite often, journeys over great distances have been a source of inspiration for their music." – says René Martin, founder and artistic director of the Festival.
Travelling has always been an inseparable part of the lives of musicians across the ages. A desire for knowledge, honing skills and discovering the world has always led artists to travel across continents. Suffice it to mention Mozart, who has travelled across Europe at a very young age, amazing his listeners and, at the same time, learning their likings and preferences. Polish masters, such as Chopin and Moniuszko also travelled, picking up the best musical ideas around the world, creatively combining them with Polish tradition.
There will be particular emphasis on the music of these three composers during the 16 concerts performed by the Sinfonia Varsovia Orchestra during the Festival. Apart from Mozart's symphonies, Moniuszko's overtures and Chopin's concertos, the ensemble will also play works by Gershwin, Ravel, Fauré, Debussy and Mendelssohn's monumental oratorio "Paulus".
The Orchestra will accompany such soloists as Boris Berezovsky, Nelson Goerner and Raphaël Sévère, with, among others, Fuad Ibrahimov and Dmitri Filatov on the conductor's podium.
The Warsaw Orchestra will play 11 concerts in Nantes alone, with 5 more concerts preceding the Festival in selected cities in the Pays de la Loire.
As always, Japan is the next stop on the La Folle Journée map in May, followed by Russia in July. The Festival concludes in Warsaw on the last weekend of September. This year, the Sinfonia Varsovia Orchestra will celebrate the 10th time it has organised the Festival in Poland.