Sinfonia Varsovia Centrum – We Have a Construction Permit!
09.04.2019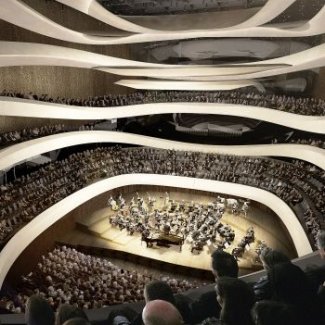 The President of the Capital City of Warsaw issued a construction permit for the Sinfonia Varsovia Centrum – a new musical location for Warsaw, focused around the Sinfonia Varsovia Orchestra. This investment is one of the flagship projects in the Restoration Programme for the Praga District, of enormous significance for Warsaw's eastern bank.
Having been waiting since 2010 for the investment to commence, the Sinfonia Varsovia Orchestra, apart from its regular concert activities beyond its home, has been organising numerous chamber music concerts, educational workshops and exhibitions in the unrenovated buildings and spaces at 272 Grochowska Street. The previous music season (May – September 2018) has drawn more than 16 000 listeners in nearly 100 events.
As we recall, in October 2015 the Sinfonia Varsovia signed a contract with Atelier Thomas Pucher – winner of the architectural competition organised in 2010 for the design documentation for upgrading historical structures and construction of a concert hall for Sinfonia Varsovia at 272 Grochowska Street.
Sinfonia Varsovia Centrum is more than just a number of concert halls, including the largest venue in Poland, a unique combination of a shoebox and vineyard design, with excellent acoustics designed by the Berlin-based Müller-BBM GmbH, with support from Kahle Acoustics of Brussels.
The Centre will also contain space for young artists (Sinfonia Varsovia Academy, residences for artists, rehearsal halls and rooms), a recording studio, facilities for many different educational activities for the residents of Warsaw. The complex will also enable visitors to relax and simply have a good time – a music café, restaurant and garden connected with the adjoining Obwodu Praga AK Park. A terrace located 20 m above the ground level will enable visitors to admire the views of the Kamionek district and the whole city. By adopting this approach, our capital joins other European cities, in which important cultural institutions are located in restored areas. Subsequent stages of the investment process include completion of work on the detailed design and tender documentation (February 2020), announcement and completion of the procurement process (March – September 2020) and commencement of construction works in October of 2020. The first stage of construction works, comprising the upgrading of three historical buildings at Grochowska Street, will conclude in October 2022. Completion of the second stage of the construction works and opening of the concert hall is scheduled for February 2025.
The Sinfonia Varsovia Centrum project is delivered by the Sinfonia Varsovia Orchestra – a local cultural institution and is financed from the budget of the capital city of Warsaw. Approximately 632 million złotys have been secured for this purpose.

For more information about the construction of Sinfonia Varsovia Centrum please visit our website www.sinfoniavarsoviacentrum.pl.