Sinfonia Varsovia in scale on the Vistula Boulevards
28.04.2022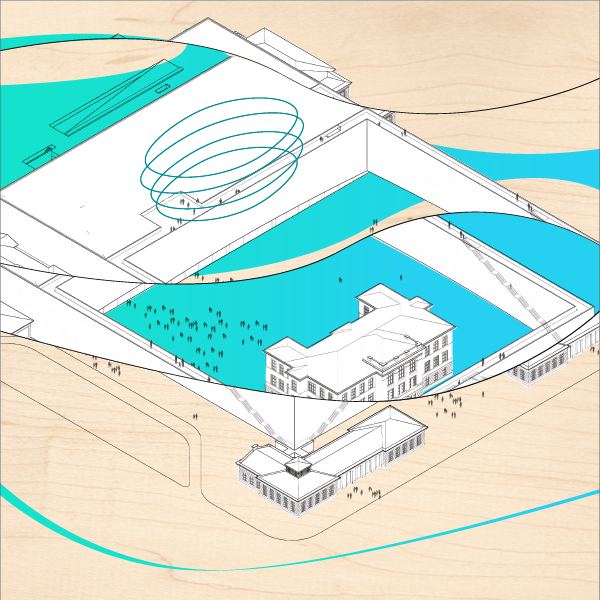 The outdoor exhibition Sinfonia Varsovia in scale is reopening by the Vistula River. It will be on view from 30 April through 2 October 2022 on the Bohdan Grzymała-Siedlecki Boulevard, next to the Mermaid Monument.The exhibition is open daily from 9 AM to 9 PM. Admission is free.
The exhibition was previously on display in the Parade Square (April-June 2021) and at the Orchestra's headquarters at 272 Grochowska Street (June-October 2021). It was visited by thousands of Warsaw locals.
The exhibition traces the history of the orchestra and the institution, showcases our current endeavors in the field of popularizing music, and reveals our plans for our new home in the Praga-Południe district. The focal point of the exhibition is one half of an acoustic model used to plan and examine the acoustics of the future concert hall. The one-tenth scale model is a faithful representation of the interior, which will accommodate almost 1900 audience members. The exhibition will also showcase the detailed information about the project being carried out at 272 Grochowska Street. The new music center includes not only the construction of the largest concert in Poland, but also the modernization of three historic buildings on Grochowska Street and Terespolska Street. The exhibition gives visitors an early taste of what our new home in the Kamionek neighborhood will look like.
The design and construction of Sinfonia Varsovia's new home is financed by the capital city of Warsaw as part of the Integrated Revitalization Program of the capital city of Warsaw (2014–2022) and the task entitled: Modernization of historic buildings and construction of a concert hall on Grochowska Street for Sinfonia Varsovia.
Exhibition partner: Vistula District