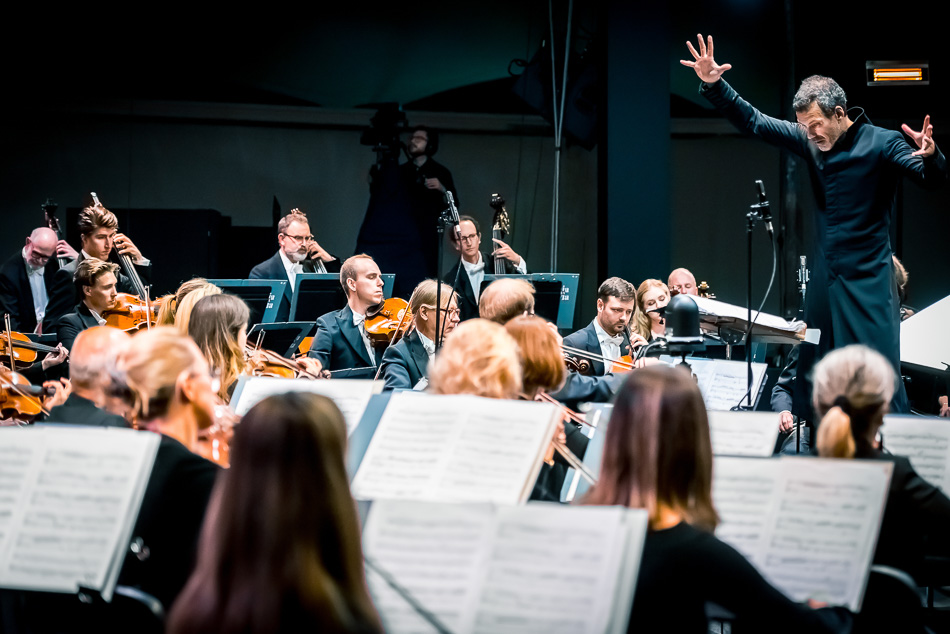 Aleksandar Marković
From September 2022: principal guest conductor of Sinfonia Varsovia.
Aleksandar Marković opened the year 2022 with Sinfonia Varsovia and an energising programme featuring works of Polish modern Classics Lutosławski, Szymanowski and Regamey at the Lutosławski "Chain" Festival in Warsaw. He will also conduct the orchestra's prestigious Anniversary Concert at Grand Theatre with works of Schumann, Penderecki and Rachmaninoff. At the culmination of the 2021/22 concert season, he lead Sinfonia Varsovia in opening and closing concerts of their Summer Festival, with repertoire ranging from Mozart, Schumann, Debussy and Honegger to Philip Glass and a world premiere of Bbrass Concerto by contemporary Polish composer Mikołaj Majkusiak.
Born in Belgrade, and a graduate of Leopold Hager's conducting class at the Universität für Musik und darstellende Kunst Wien, Aleksandar Marković also attended masterclasses at the Accademia Musicale Chigiana in Siena, where he was awarded a Diploma d'onore. He gained a scholarship from the Herbert von Karajan Foundation Berlin, and won First Prize at the 7th Grzegorz Fitelberg International Competition for Conductors in Katowice, Poland.
He was Chief Conductor of the Tiroler Landestheater & Orchester in Innsbruck, Music Director and Principal Conductor of the Brno Philharmonic Orchestra, and Music Director of Opera North. At the start of the 2021/22 season he became Chief Conductor of Vojvodina Symphony Orchestra in Novi Sad, Serbia.
International appearances have included the Seattle Opera, Royal Liverpool Philharmonic Orchestra, City of Birmingham Symphony Orchestra, RTE Symphony Orchestra of Ireland, National Orchestra of Belgium, Munich Radio Orchestra, Odense Symphony Orchestra, the Bournemouth Symphony Orchestra, the BBC Scottish Symphony Orchestra, the Malmö Symphony, the Qatar Philharmonic, Beethoven Orchestra Bonn, the Croatian HRT and Prague Radio symphony orchestras, the Slovenian Philharmonic and the Slovak Philharmonic, the Wuppertal Opera and Symphony Orchestra, Orchestre de Chambre de Lausanne, Symphony Orchestra of Teatro Verdi Trieste, Bremen Philharmonic, Lübeck Philharmonic and Mannheim Chamber Orchestra.
Other guest conducting appearances include the Spanish Radio and Television Symphony Orchestra, Vienna Symphony Orchestra, Dresden Philharmonic, Stuttgart Philharmonic, Staatskapelle Halle, Prague Symphony Orchestra, Czech National Theatre, Konzerthausorchester Berlin, DSO Berlin, Mozarteum Orchestra Salzburg, Vienna Chamber Orchestra and Concertverein, Scottish Chamber Orchestra, Janacek Philharmonic Ostrava, Lithuanian National Symphony Orchestra, Symphony Orchestra of St. Gallen, State Orchestra Braunschweig, Belgrade Philharmonic, Zagreb Philharmonic, Sarajevo Philharmonic, and Kremerata Baltica.
Aleksandar Marković commands a wide range of symphonic and operatic repertoire, reaching from Classic and Romantic to contemporary styles. His keen interest in 20th-century and avant-garde music has led to performances of works by the likes of Hartmann, Schiske, Istvan, Rózsa, Ligeti, Lutosławski, Penderecki, Glass, D'Ase, Pintscher, Larcher, Tüür, Yusupov, Salonen and MacMillan. In 2018 he recorded Kasyan Goleizovsky ballet Scriabiniana and Lorenz Dangel's ballet Satori for Sergey Polunin's dance company.
Aleksandar is also passionate about supporting the next generation of musicians and has dedicated time to supporting various projects in this respect. Notably, he has worked with the symphony orchestra of the University of Music in Graz and been a jury member and lecturer of the Summa Cum Laude Youth Music Festival in Vienna.
INTERVIEW:Aleksandar Marković about his relationship and work with Sinfonia Varsovia