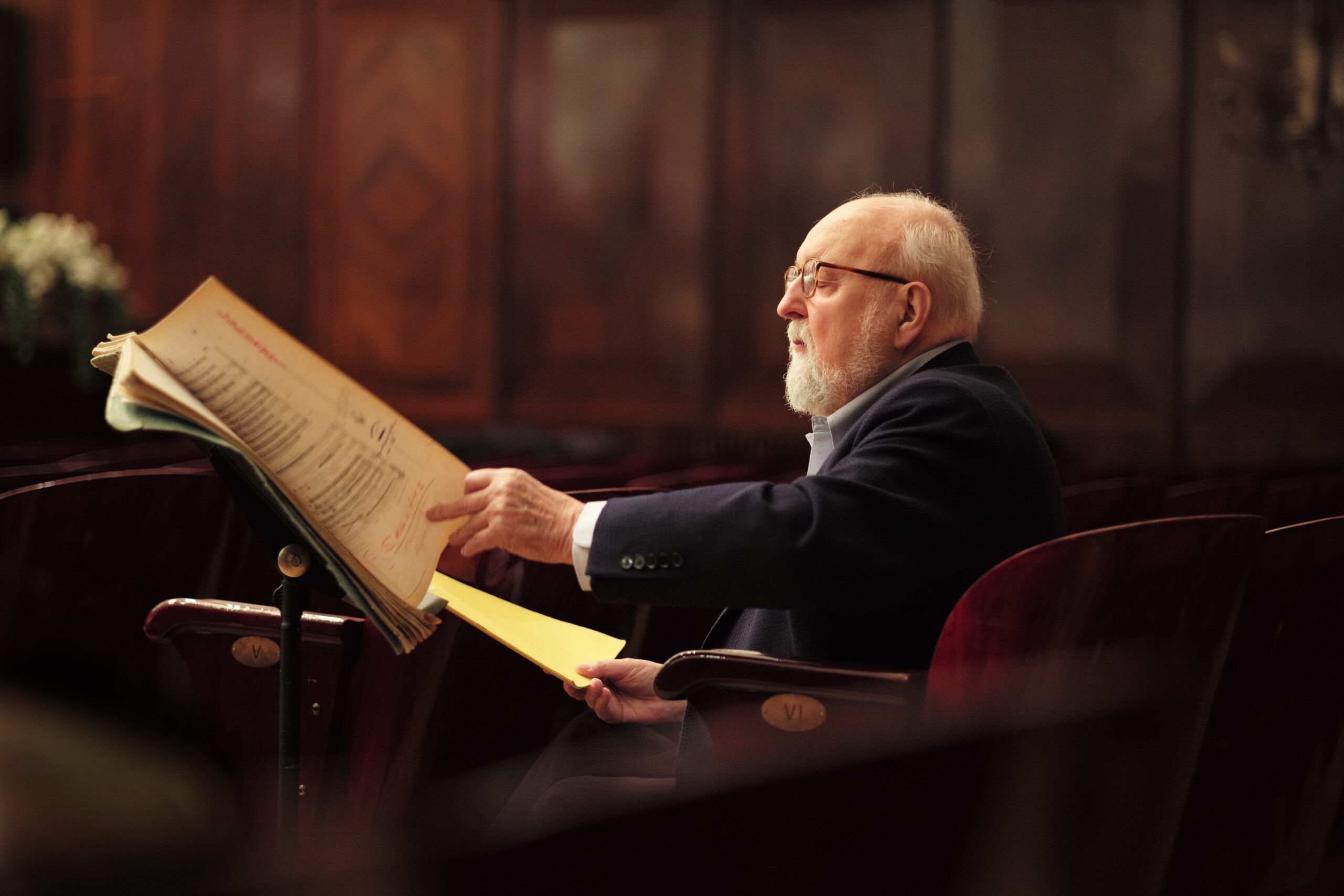 Krzysztof Penderecki
Born 23 November 1933 in Dębica, deceased 29 March 1933 in Cracow. One of the greatest Polish composers, conductor, lecturer. For many years his name was synonymous with Polish musical avant-garde, which he helped create. For over sixty years of his life he wrote music in almost all genres and for many instrumental arrangements. In addition to composing he also taught at the Academy of Music in Cracow, where he served as dean from 1972 to 1987, the Hochschule für Musik in Essen, and Yale University. Between 1987 and 1990 he was the artistic director of the Cracow Philharmonic. In 1997 he became the music director and in June 2003 the artistic director of Sinfonia Varsovia.
Early career
He studied composition under Franciszek Skołyszewski and then, starting in 1954, under Artur Malawski and Stanisław Wiechowicz at the Academy of Music in Cracow. After graduation he stayed at the Academy and taught composition. He enjoyed his first major success in 1959 when his Strophes, Emanations, and Psalms of David won the three main awards at the II Polish National Competition for Young Composers organized by the Polish Composers' Union. His debut as a composer in front of an interntional audience came later that year during the Warsaw Autumn festival, where the then-26-years-old composer presented his Strophes for reciting voice and 10 instruments. In 1960 he wrote 8'37", later subtitled Threnody for Victims of Hiroshima, for which he was awarded the UNESCO Tribune Internationale des Compositeurs prize a year later in Paris. The threnody was the first in a series of spectacular achievements. He soon wrote Anaklasis, then a year later Polymorphy, Phonograms, and Psalm and next, in 1955, his first monumental work – St. Luke Passion. His music was played by radio stations around the world and Penderecki became a key figure of the avant-garde of his time.
Work
His early work was avant-garde in character. Penderecki's compositions from the early 1960s, i.e. Anaklasis, Threnody, Canon, Polymorphy, Fluorescences and String Quarter were the fullest realizations of the phenomenon referred to by Polish musicologists as "sonorism". St. Luke Passion marked his transition from explorations and experiments to works deeply rooted in the musical tradition. This 1966 work was a synthesis of modernity and tradition. Its first performance in the Münster cathedral in 1966 earned him the title of the most acclaimed composer since Igor Stravinsky. The same year he wrote another oratory, the Cosmogony cantata, commissioned by the UN. His later compositions also alluded to the sacred, i.e. the choral Dies Irae, also known as the Auschwitz Oratorium (1967) and the 1971 Utrenia.
The late 60s and early 70s marked a parting with the sonorist approach and a turn towards tradition. It was then that he wrote Symphony No. 1 (1973) and The Dream of Jacob (1974), often pointed out as examples of romanticism in Penderecki's work. His later works, such as the Violin Concerto No. 1 (1976), Paradise Lost (1978), Symphony No. 2 (1980), and Cello Concerto No. 2 (1982), maintained the same style. In the 1980s Penderecki turned towards musical synthesis. In that period he wrote such chamber pieces as Quartet for Clarinet and String Trio, Sextet, Flute Concerto, String Concerto No. 2, Concerto Grosso, Double Concerto and monumental vocal/instrumental pieces such as Credo and Symphony No. 8 "Songs of Transience".
Conductor
He debuted as a conductor in the early 1970s, where he conducted his Actions for jazz band at the Donaueschingen festival. In 1972 he recorded an album of his music for EMI with the Polish Radio and Television Grand Symphony Orchestra in Katowice. He directed many acclaimed orchestras around the world, including the Müncher Philharmoniker, London Symphony Orchestra, Philadelphia Orchestra, New York Philharmonic Orchestra, Japanese Radio Orchestra (NHK) in Tokyo, and the Osaka Philharmonic Orchestra. In 1988 he became the first guest conductor of the Sinfonieorchester des Norddeutschen Rundfunks in Hamburg and then the Mitteldeutscher Rundfunk Sinfonie Orchester in Leipzig. In 2000 he became a guest conductor at the China Philharmonic Orchestra. He also conducted Sinfonia Varsovia, including its first performance of Sinfonietta Per Archi in 1992, a composition he dedicated to the ensemble.
Awards and honors
Penderecki received 39 honorary degrees from universities in Argentina, Belgium, Bulgaria, Estonia, France, Spain, Ireland, South Korea, Latvia, Germany, Peru, Poland, Russia, Romania, Serbia, Switzerland, Ukraine, USA, and Great Britain. In 1998 he was awarded an honorary degree from the Jagiellonian University in Cracow. Another honorary degree was given to him at the Pittsburgh University in April 1999. He became an honorary member of 35 institutions in Argentina, Armenia, Austria, China, Estonia, France, Hong Kong, Ireland, Germany, Poland, Russia, Switzerland, Sweden, Ukraine, USA, Great Britain, and Italy. One of his major international successes was the UNESCO prize he won in 1961 for his Threnody for the Victims of Hiroshima and the 1988 Grammy he received from the National Academy of Recording Arts and Sciences for his Cello Concerto No. 1 which he recorded for ERATO with Mstislav Rostropovich as soloist.
Penderecki became an honorary member of the American Academy of Arts and Letters in 1998. In 1999 he received two Grammy Awards, one for the best contemporary composition, his Violin Concerto No. 2 – Metamoprhoses, and one for the recording of its performance with Anna-Sophie Mutter and the London Symphony Orchestra under his conduction.
On 21 January 2000 Krzysztof Penderecki received the prestigious Best Living Composer award at the World Music Expo in Cannes. In October f the same year he received a honorary degree from the Lucerne University.