Summer with Sinfonia Varsovia – August
01.08.2019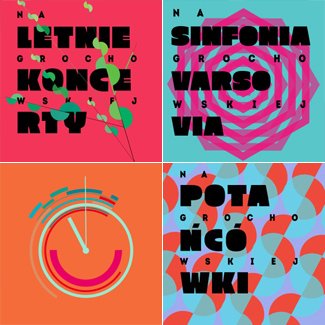 Summer with Sinfonia Varsovia started in May, but is not letting up! The summer holidays are half-way behind us, but musical events in Sinfonia Varsovia's home continue. Treats for listeners include themed chamber music concerts, popular dance parties, a musical story for whole families and an orchestral concert featuring guitar virtuoso Krzysztof Meisinger.

There are two main streams of Summer Concerts at Grochowska Street in August.
Events on Saturday will be devoted to music of old Warsaw – songs from the 1920's and 30's, as well as popular songs of Warsaw from the 1st half of the 20th century. The concerts will feature performances by violinist Joanna Okoń with pianist Katarzyna Glensk (3.08), the Il Canto vocal ensemble (10.08), Camerata Vistula with cellist Anna Wróbel and artistic director Andrzej Wróbel (17.08) and Emilia Sitarz with Bartłomiej Wąsik, otherwise known as the Lutosławski Piano Duo (24.08).
Sundays, on the other hand, will feature music with elements of improvisation. Invited artists will play works and pieces from many periods, because this difficult art of playing music that has not been written down exists not just in jazz. Sounds of the Middle Ages and the Renaissance will be brought to you by the Ars Nova early instruments ensemble (4.08); one week later, the Cornu Copiae orchestra with violinist Karolina Habała (11.08) will take its listeners on a Baroque journey. Next Sunday (18.08), harpsichordist Stanisław Łopuszyński will play music of French harpsichord masters, and also contemporary works. The cycle will conclude with a special event. During the last Summer Concert at Grochowska Street (25.08), the Atom String Quartet will present its own arrangements of works by Krzysztof Penderecki, artistic director of the Sinfonia Varsovia Orchestra. The concert will also promote the release of the Quartet's latest release, titled PENDERECKI.

Another Morning Concert at Grochowska Street will take place on the first Sunday of August (4.08) at 11:00 a.m. Loook! A Zoo! was written based on the Zoo series of poems by Jan Brzechwa. The music, written by Zuzanna Falkowska and Jan Stokłosa to well-known and liked poems about a bear, a boar, a giraffe and other animals will create an interesting world for both children and adults. The performance will feature an ensemble of professional musicians and participants of a previously held series of workshops in the Loook! A Zoo! project. This Morning Concert at Grochowska Street is a great opportunity for the whole family to spend a Sunday together in a musical zoo!
August continues the popular series of Dance Parties at Grochowska Street. On the first four Fridays of every month at 7:00 p.m., the Concert Pavilion transforms into a dance floor for all guests of the Sinfonia Varsovia Orchestra. This month, our guests will experience music of Ireland (2.08), music of Polish Highlanders (9.08), salsa (16.08) and music from the Ukraine (23.08). Each Dance Party is preceded by a workshop, during which professional dancers demonstrate the basic steps and moves of a given dance. A wooden dance floor, coloured lights and live music is an excellent way to get carried away by dancing madness.

On the last Friday of August (30.08), the Sinfonia Varsovia Orchestra will play an exceptional concert. The programme of "An Evening farniente" will cause listeners to relax and get lost in a daydream. The concert will feature works by two composers – Alexandre Tansman and Astor Piazzolla. It will begin with Sinfonia Varsovia performing the Variations on a Theme by Frescobaldi, followed by Musique de cour for guitar and chamber orchestra. Alexandre Tansman's output is an area of interest for Krzysztof Meisinger, who is well known for his interesting interpretations and promotion of music written by this composer. The second part of the concert will be devoted to the master of tango nuevo – Astor Piazzolla. The programme will feature the ever-popular Libertango and Milonga Del Angel, and also less-known works, such as Soledad and the Concierto para Quinteto. Performances of these works by guitar master Krzysztof Meisinger are valued by fans of Piazzolla's music performed by the artist at numerous concerts and recorded with Sinfonia Varsovia and released in 2015 on an album titled ASTOR. The August concert will mingle late summer's blissful mood and lyricism with the passionate rhythms of Argentinian tango.