The summer festival continues at our headquarters
20.09.2021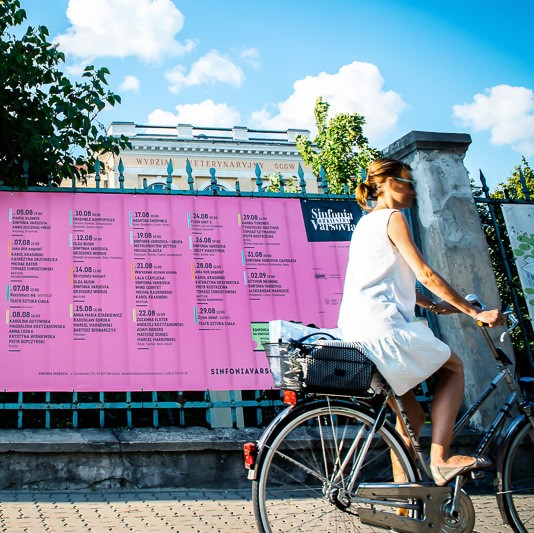 In August, the music keeps on playing at the Concert Pavilion. Summer afternoons and evenings offer an opportunity to hear Sinfonia Varsovia musicians perform with guest artists. So far, the Festival has hosted the Sinfonia Varsovia Wind Quintet playing songs about Warsaw together with Lala Czaplicka, Klaudiusz Baran, and Jakub Haufa, Sinfonia Varsovia performing the music of Astor Piazzolla, and the Contemporary Music Ensemble Synaesthesis from Vilnius introducing the audience to Lithuanian minimalism. Other highlights of the Festival included: the Orchestra's musicians interpreting the rediscovered music of Mieczysław Wajnberg with Maria Sławek as soloist under the baton of Agnieszka Duczmal-Mróz and the Sinfonia Varsovia chamber ensemble performing Olivier Messiaen's metaphysical Quartet for the End of Time. Apart from that, each Saturday, the youngest fans of musical adventures can meet with Little Basil. What is still ahead of us?
The Sinfonia Varsovia to Its City Festival, which runs through 2 September, features concerts intended specifically for Warsaw residents. The events were divided into series and take place four times a week. Experimental Tuesdays are devoted to new music. The coming days will see two more concerts. On 24 August, the Flow Unit 3 piano trio featuring Anna Kwiatkowska (violin), Mikołaj Pałosz (cello), and Adam Kośmieja (piano) will perform. The musicians will present music corresponding to visual arts and film, focused on corporeality and gestures, and celebrating intimate contact with the instrument. The last Experimental Tuesday will take a look at how contemporary composers approach string quartets. On 31 August, the Concert Pavilion will host Sinfonia Varsovia Camerata featuring Magdalena Sokalska (violin), Karolina Gutowska (violin), Anna Loska (viola), and Krystyna Wiśniewska (cello).
On Thursdays, we meet with the Orchestra. Sinfonia Varsovia, conducted by renowned conductors, presents pieces of various styles and genres. The highlight of the Festival will take place on 26 August, when the musicians will perform under the baton of Jerzy Maksymiuk, with whom the orchestra share a long-lasting friendship and recorded a jubilee album. The program would not be complete without Wojciech Kilar's Orawa. The repertoire also includes a rarely performed piece by Tadeusz Baird, Colas Breugnon. 2 September will see a closing concert led by Aleksandar Markovic with pianist Szymon Nehring as soloist. The program features works by Krzysztof Penderecki, Fryderyk Chopin, and Piotr Tchaikovsky. You will have a unique opportunity to hear a full-size orchestra.
On Saturdays, the Concert Pavilion hosts Little Basil. The Warsaw dragon, accompanied by Sinfonia Varsovia musicians and guest artists, guides children and their families through the world of music and instruments. The upcoming events will present stories about Warsaw (21 August), moods, and weather (28 August). There will be a lot of singing along and plenty of surprises!
Sundays showcase chamber music performed by the Orchestra's musicians. The program revolves around different geographic areas and the upcoming events will focus on France. On 22 August, Zuzanna Elster (harp), Andrzej Krzyżanowski (flute), Adam Siebers (violin), Mateusz Doniec (viola), and Marcel Markowski (cello) will perform compositions from the early 20th century – impressionistic, ephemeral, and varied in color. The repertoire includes works by Ravel, Tournier, and Ibert. The last concert of the series will take place on 29 August and will be a fusion of classical music with jazz – Hanna Turonek (flute, conducting), Tymoteusz Hartman (piano), Tomasz Szymański (double bass), and Piotr Kostrzewa (drums, conducting) will perform Claude Bolling's Suite for Flute and Jazz Piano Trio No. 1. This afternoon will surprise us with inspiring and improvised sounds of the flute.